Welcome to Discovery Space's Campaign -
The Future of Science is in Play
Current May 2019
Message from the Campaign Chairs
Campaign Co-Chairs
Giving to our campaign can brighten a child's day and build hope for our nation's future.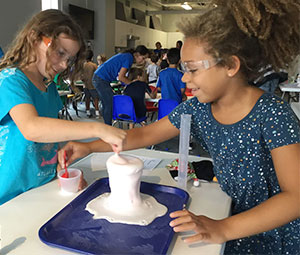 U.S. students fall behind their counterparts in other countries in science performance. At Discovery Space, we address this problem by lighting a creative spark that leads to a lifetime of curiosity and exploration.
We have launched an ambitious $1.5 million fundraising campaign to support science education. Your contribution will:
Create additional outreach programs for schools and groups
Expand our hands-on exhibits, educational programs, and events
Add to our professional education staff
We envision a community that embraces science literacy and critical thinking, empowering its citizens (especially children) to appreciate what science can do in their lives, now and in the future.
Your gift will be an important part of our continued growth.
The Centre region is fortunate to enjoy many institutions-cultural, educational, and recreational-that make this a welcoming place for families with children. However, there is no place like Discovery Space. Since we opened in 2011, thousands of children have discovered the joy of science.
Discovery Space exists to provide engaging science experiences that spark creativity, curiosity, and imagination.
Make a difference with a meaningful gift to our campaign.
Call or donate online.
One-time donation Monthly donation
Thank you for choosing to support Discovery Space!